DP World Tour - Adrian Meronk
Andulucia Masters - Sotogrande - San Rogue - Andulucia - Spain - 19th to the 22nd of October, 2023.
Polish golfer Adrian Meronk gained his third title in Spain on the DP World Golf Tour by one stroke from German player Matti Schmid. In third place was Richard Mansell from England. With this win Adrian Meronk moved into 3rd position in the DP Golf Rankings and 46th in the World Golf Rankings.
Challenge Golf Tour - Ricardo Gouveia
Hainan Open - Danzhou Ancient Saltern - Hainan Island - China - 13th to the 16th of October, 2023.
Portuguese golfer Ricardo Gouveia won his second title on the Challenge Golf Tour in China by three strokes from Swiss player Joel Girrbach. In third place were four golfers, Steven Brown, Will Enefer, Francisco Laporta and Wenyi Ding. With this win Ricardo Gouveia moved into 174th position in the Challenge Golf Tour Rankings and 342nd in the World Golf Rankings.
DP Tour - Matthieu Pavon
Open de Espana - Campo Villa de Madrid -Madrid - Spain - 12th to the 15th of October, 2023.
French golfer Matthieu Pavon claimed his maiden title in Madrid on the DP Golf Tour by four strokes from South African Zander Lombard. Nathan Kimsey from England was in third position with a further one stroke. With this win Matthieu Pavon moved into 20th place in the DP Golf Tour Rankings and 115th in the World Golf Rankings.
---
DP Tour - Thriston Lawrence
Wednesday, 28/Jun/2023
BMW International Open - Munich - Germany - 22nd to 25th of June, 2023.
South African golfer Thriston Lawrence gained his fifth title on the DP Tour in Munich by one stroke from Hollands Joost Luiten. In tied second place with one more stroke was Daniel Hillier, Rikuya Hoshino. Maximilian Kieffer and Adrian Meronk. With this new title Thriston Lawrence moved into 15th place in the DP Rankings and 75th in the World Golf Rankings.
---
The 2020 Ryder Cup - The USA
Monday, 27/Sep/2021
The 2020 Ryder Cup - Whistling Straits - Sheboygan - Wisconsin - USA - 24th to the 26th of September, 2021.
With a record win the USA Team dealt a crushing blow to the European Team with a 19 to 9 victory. The outstanding play by the USA Team created a record win overtaking those of the 1979 and 1982 successes.
---
Ryder Cup 2018
Monday, 1/Oct/2018
Team Europe carried off the 2018 Ryder Cup in France with a victory score of 17.1/2 to 10.1/2.
---
2016 Ryder Cup
Monday, 3/Oct/2016
2016 Ryder Cup - Hazeltime - Chaska - Minnesota - USA - 30th to 2nd October, 2016.
The USA Team won the 2016 Ryder Cup with a outstanding victory of 17 points against Europes 11 points. This was the heaviest defeat for Europe in over three decades
---
Arnold Palmer
Monday, 26/Sep/2016
At the splendid age of 87 the world famous golfer Arnold Palmer has joined his fellow players in being a past great memory. He claimed 92 important victories in his Pro golfing career which started in 1954. He was four times a Master winner and two times a Open winner. He also was a team player member six times in the USA Ryder Cup Team.
---
Ladies Olympics 2016 - Inbee Park
Monday, 22/Aug/2016
Olympics 2016 - Rio de Janeiro - Brazil - 16th to 18th August, 2016.
The South Korean golfer Inbee Park gained the Gold Medal in the Olympics of 2016 in Brazil. Five strokes back was Lydia Ko from New Zealand and in third place with only one more stroke was Shanshan Feng from Japan.
---
Ladies European Tour - Maria Verchenova
Thursday, 9/Jun/2016
Evian Championship Qualifying - Evian - Evian les Bains - France - 31st to 1st of June.
Russian player Maria Verchenova ended two strokes less than her nearest rival, Nanna Koerstz Madsen from Denmark. Four golfers tied for third place and they were Ariane Provot, Valentine Derrey, Anne Van Dam and Amy Boulden.
---
Ladies European Tour - Jade Schaeffer
Thursday, 9/Jun/2016
US Open Qualifier Europe - Buckinghamshire - England - 25th May.
French golfer Jade Scheffer lead the field to finish one stroke ahead of three tied players in second place. They were Valentine Derrey, Camilla Lennarth and Olivia Cowan.
---
Challenge Tour - Alexander Knappe
Monday, 6/Jun/2016
Swizz Challenge - Sempachesee - Lucerne - Switzerland - 2nd to 5th June.
German golfer Alexander Knappe made his maiden victory in Lucerne by beating Norwegian Espen Kofstad and Englishman Paul Howard by only one stroke. This win moved to 10th position in the Challenge Road to Oman.
---
Senior Tour - Lianwei Zhang
Monday, 6/Jun/2016
Wales Senior Open - The Celtic Manor - Newport - Wales - 3rd to 5th June.
Chinese golfer Lianwei Zhang achieved his maiden Senior Tour win in Wales by a lead of three strokes over Englishman Paul Broadhurst, and four strokes over David Gilford also from England.
---
European Tour - Matthew Fitzpatrick
Monday, 6/Jun/2016
Nordea Masters - Bro Hof Slott - Stockholm - Sweden - 2nd to 5th June.
Twenty-two year old English golfer Matthew Fitzpatrick won his second Tour victory in Sweden by three strokes from Lasse Jensen from Denmark. Lying third with one stroke more was Nicolas Colsaerts from Denmark. Fitzpatrick moved to 44th place in the World Rankings and 11th in the Race to Dubai.
---
Senior Tour - Rocco Mediate
Wednesday, 1/Jun/2016
Senior PGA Championship - Harbor Shores - Michigan - USA - 26th to 29th May.
American golfer Rocco Mediate gained his first Senior Tour victory in Michigan when he finished three strokes less than Scotlands Colin Montgomerie. Tied third were Bernard Langer and Brandt Jobe.
---
Challenge Tour - Damien Perrier
Monday, 30/May/2016
Czech Challenge - Kuneticka Hora - Dritec - Czech Republic - 26th to 29th May.
French golfer Damien Perrier gained his first win on the Challenge Tour placing him in 5th position in the Challenge Rankings. Lying equal second one stroke back were Englishman Jordan L. Smith and Frenchman Adrien Saddier. In fourth place was Portugals Ricardo Santos.
---
European Tour - Chris Wood
Monday, 30/May/2016
BMW PGA Championship - Wentworth - Surrey - England - 26th to 29th May.
Englishman Chris Wood achieved his 3rd win on the Tour at Wentworth. He beat his nearest rival Swedens Rikard Karlberg by one stroke, and with fellow Englishman Danny Willett in third place just a further stroke back. Wood moved to 52nd place in the World Rankings and 5th position in the Race to Dubai.
---
European Tour - Rory McIlroy
Monday, 23/May/2016
Irish Open - K Club - Kildare - Ireland - 19th to 22nd May.
The Northern Irish golfer Rory McIlroy showed his prowess during the very competitive final holes in the Irish Open. He finished three strokes less than Welshman Bradley Dredge and Scotlands Russell Knox.This was his 13th won on the Tour placing Rory in 3rd position in the World Rankings and 2nd in the Race to Dubai.
---
Ladies European Tour - Shanshan Feng
Tuesday, 17/May/2016
Buick Championship - Shanghai Qizhong Garden - Shanghai - China - 12th to 15th May.
Chinese player Shanshan Feng won the Buick Championship by two strokes from South Korean Na Yeon Choi and American Beth Allen who at present is No 1 in the LET Rankings. Shanshan Feng now moved into second place behind Allen.
---
Challenge Tour - Gary King
Tuesday, 17/May/2016
Montecchia Open - Montecchia - Padova - Italy - 12th to 15th May.
English golfer Gary King gained his maiden win on the Tour when he won in Italy by one stroke from both Frenchman Matthieu Pavon and German Moritz Lampert. King moved to 475th place in the World Rankings and 218th position in Race to Dubai.
---
European Tour - Jeunghun Wang
Tuesday, 17/May/2016
Mauritius Open - Four Seasons - Beau Champs - Mauritius - 12th to 15th May.
South Korean golfer, Jeunghun Wang repeated his previous weeks win in Mauritius by winning their Open by one stroke from Argentinian Siddikur Rahman. With this second victory on the Tour he moved to 70th in the World Rankings and 13th in the Race to Dubai.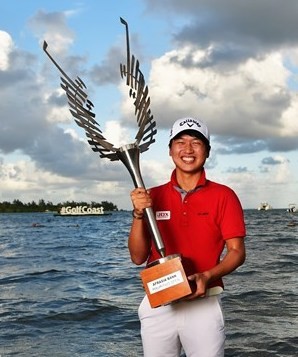 ---
Ladies European Tour - Nuria Iturrios
Tuesday, 10/May/2016
Lalla Meryem Cup - Royal - Dar Es Salam - 5th to 8th May.
Nuria Iturrios a young 20 year-old rookie Spanish golfer took first place in only her second professional game . She finished a sensational 11 strokes under par in Dar Es Salam. Her nearest rival was Englands Florentyna Parker some six strokes further back. Nuria moved into 1st place in the LET Rankings.
---
Challenge Tour - Clement Sordet
Tuesday, 10/May/2016
Turkish Airlines Challenge - Gloria - Belek - Antalya - Turkey - 5th to 8th May.
French player Clement Sordet claimed his second win on the Challenge Tour in Belek when he ended one stroke less than Frenchman Matthieu Pavon. Lying in third place some further four stokes back was Englishman Aaron Rai. Sordet moved into 176 place in the World Rankings and 6th in the Challenge Rankings.
---
European Tour - Jeunghun Wang
Tuesday, 10/May/2016
Trophee Hassan II - Dar Es Salam - Rabat - Morocco - 5th to 8th May.
South Korean golfer Jeunghun Wang gained his maiden win in Rabat in a play-off against Spanish golfer Nacho Elvera. Hot on their heels one stroke back were Robert Rock and Clement Berado. Jeunghun Wang moved into 88th place in the World Rankings and 25th in Race to Dubai.
---
Challenge Tour - Duncan Stewart
Monday, 2/May/2016
Challenge de Madrid - La Herreria - Madrid - Spain - 28th to 1st May.
Scot, Duncan Stewart, took the victory in Madrid by one stroke from Ben Stow from England and two strokes from Spanish golfer Pep Angles. This was his maiden win on the ChallengeTour and gave him the Ranking of 4th place.
---
European Tour - Haotong Li
Monday, 2/May/2016
China Open - Topwin - Beijing - China - 28th to 1st May.
Chinese golfer Haotong Li gained his maiden victory on the Tour in Beijing when he won the China Open by three strokes from Chilean Felipe Aguilar with Richard Bland and Marcel Siem as equal third. This win placed him 131st in the World Rankings.
---
European Tour - Soomin Lee
Monday, 25/Apr/2016
Shenzhen International - Genzon - Shenzhen - China - 21st to 24th April.
South Korean golfer Soomin Lee claimed his maiden win on the Tour by two strokes in Shenzhen. His nearest rivals were both Dutchman Joost Luiten and Branden Stone from South Africa. Soomin Lee moved to 127th place in the World Rankings and 10th in the Race to Dubai.
---
European Tour - Andrew Johnston
Monday, 25/Apr/2016
Open de Espana - Real Club Valderama - San Roque - Andulucia - Spain - 14th to 17th April.
English golfer Andrew Johnston gained his first Tour win by one stroke from Dutchman Joost Luiten. Only one stroke further back was Spains Sergio Garcia. This victory placed him 123rd in the World Rankings and 17th in the Race to Dubai.
---
European Challenge Tour - Jordan Smith
Monday, 25/Apr/2016
Red Sea Egyptian Challenge - Sokhna - Ain Sokhna - Suez - Egypt - 20th to 23rd April.
English golfer 23 year old Jordan Smith claimed in Egypt his maiden win on the Challenge Tour by two strokes over his three equal rivals, Austrian Manuel Trappel, Englishman Garrick Porteous and Swizz Joel Girrbach.
---
Bahamas LPGA Classic
Wednesday, 3/Feb/2016
Hyo Joo Kim - Ocean Club - Paradise Island - Bahamas - 25th to 31st January, 2016.
Korean golfer Hyo Joo Kim led the field on the final day with a two stroke lead from Stacy Lewis, Sei Young Kim and Anna Nordqvist.
---
EURASIA CUP
Wednesday, 3/Feb/2016
EURASIA CUP - Glenmarie - Kuala Lumpur - Malaysia - 15th to 17th January 2016.
The Europe Team with Darren Clarke as their Captain romped home with an 18.1/2 points win over the 5.1/2 point of the Eurasia Team led by Jeev Milkha Singh.
---
Tuesday, 1/Sep/2015
Solheim Cup - St. Leon-Rot - Baden-Wurttemberg - Germany - 18th to 20th September 2015 The USA Team captained by Juli Inkster won by 14.5 points to Europes 13.5 points. The European Team was captained by Carin Koch from Sweden.
---
Wednesday, 1/Apr/2015
A reminder that due to the bad weather the European Tour event of the Madeira Open has been re-scheduled to take place from July 30th to August 2nd.
---
Wednesday, 1/Oct/2014
It was with pride that Europeans saw the Ryder Cup captain Paul McGinley raised the trophy on the Sunday at Gleneagles. Our appreciation and thanks go to the victorious Europe Team composed of Rory McIlroy , Henrik Stenson , Vitor Dubuisson , Jamie Donaldson , Sergio Garcia , Justin Rose , Martin Kaymer , Thomas Bjorn , Graeme McDowell , Stephen Gallacher , Ian Poulter and Lee Westwood.
---
Wednesday, 1/Oct/2014
Europe The 2014 Ryder Cup Gleneagles - Scotland - 26th to 28th September, 2014 After a very exciting three days the Ryder Cup stays in Europe for another two years when it is once more contested in the USA. A strong European team headed by Paul McGinley ended the second day with a slight advantage but everything to play for. The final day ended with a 16.1/2 to 11.1/2 win to Europe.
---
Monday, 1/Sep/2014
On the 26th of September the whole world of golf will start watching another fascinating Ryder Cup taking place on the famous Gleneagles Course in Scotland. The Europe Team is captained by Irishman Paul McGinley and ably assisted by Des Smyth and Sam Torrance. Our European Team is so far composed of Rory McIlroy , Henrik Stenson , Vitor Dubuisson , Jamie Donaldson , Sergio Garcia , Justin Rose , Martin Kaymer , Thomas Bjorn , Graeme McDowell , Stephen Gallacher , Ian Poulter and Lee Westwood . One leading Sports columnist had suggested that much in-form Bernard Langer should be included having won very recently the Seniors Open by 13 strokes!
---
Sunday, 1/Jun/2014
The Madeira Islands Open this year was tainted by two most unfortunate events. Firstly, the sudden death of the popular caddy Ian McGregor on the ninth hole in the final round of play when caddying for Alastair Forsyth. Under the circumstances opinion is unevenly split as to whether the event should have continued with three players out of the 75 participating withdrawing from play. His good friend Alastair Forsyth for whom Ian McGregor had been working, decided to proceed in his round, stating: .We felt this was what Mac would have wanted. Secondly, the play had been reduced to only 36 holes due to the local bad weather conditions. Daniel Brooks won the event which was his first victory on the European Tour.
---
Friday, 1/Nov/2013
Continental Europe Seve Trophy Saint-Nom-La-Breteche - France - 3rd to 6th October, 2013 Lead by captain Jose Maria Olazabal, the Europe Team of Francesco Molinari, Gonzalo Fdez-Castano, Gregory Bordy, Joost Luiten, Matteo Manassero, Miguel Angel Jimenez, Mikko Ilonen, Nicolas Colsaerts, Thomas Bjorn and Thorbjorn Oleson, scored a victory of 15-13 points over the Great Britain and Ireland team. This was led by their captain Sam Torrance.
---
Sunday, 1/Sep/2013
Europe Solheim Cup Parker - Colorado USA - 16th to 18th August 2013 Europe Ladies Team led by Captain Liselotte Newmann from Sweden with a historical first win on US soil. A points victory of 18 to 10 with the outstanding player being Caroline Hedwall claiming five wins out of five matches. The team consisted of Anna Nordqvist (Swe), Annika Sorenstam (Swe), Azahara Munoz (Spn), Beatriz Recari (Spn), Carin Koch (Swe), Carlota Ciganda (Spn), Caroline Hedwell (Swe), Caroline Masson (Ger), Catarina Charley Hull (Eng), Catriona Matthew (Sco), Charley Hull (Eng), Giulia Sergas (Ita), Jodi Ewart-Shadoff (Eng), Karine Icher (Fra), Suzann Petterssen (Nor).
---
Sunday, 1/Sep/2013
Davis Love III collected his fourth victory of the year as he led from start to finish to win the International at Castle Pines, Colorado. Davis moved up 3 positions to No.3 in World Golf Ranking and moved past Tiger Woods to the top of the US PGA TOUR Money List with $5,122,038 from 15 events. Vijay Singh and Retief Goosen were the joint runners-up. Vijay moved down one spot to World No.4 while Retief Goosen remained at World No.12.
US Open Champion Jim Furyk won the Buick Open by two strokes from Tiger Woods, Chris DiMarco, Briny Baird and Geoff Ogilvy. Fruyk improved 3 places to a career-high World Ranking position at No.3 and up to No.2 on the PGA Tour money list with $4,401,313 – second to Tiger Woods with $4,810,496. Of the runners up Tiger Woods remained at the top of the World Ranking with 7.87 points clear of World No.2 Ernie Els. Chris DiMarco enjoyed a 3-place jump to No.14. Briny Baird moved into the Top-100 at No.84 while Geoff Ogilvy became the 11th highest-ranked Australasian as he moved to No.101.
---
Monday, 1/Oct/2012
Peter Hanson - (Sweden) KLM Open Hilversumsche - Hilversum - Netherlands - 6th to 9th September, 2012 With this win Peter Hanson added to his score bringing it up to a total of 6 European Tour titles having taken part in 303 events. This placed him 363 position in the World Rankings.
---
Saturday, 1/Sep/2012
Chris Wood picked up the first professional title of his career on his Asia debut at the Thailand Open. The six foot five Englishman finished 23-under par after four rounds to finish two clear of the fast finishing Dong-kyu Jang who shot a Sunday 63, and a further stroke clear of home favorites Arnond Vongvanu and Wisut Artjanawat, as well as Korea's Dong-hwan Lee. The win saw Wood jump 11 places on the World Ranking to 160th. The 31 year old Nick Watney has endured a difficult year on the PGA Tour but he put that behind him with a three shot victory at The Barclays. Watney shot a closing 69 and fellow American Brandt Snedeker finished in second place at Bethpage State Park, Farmingdale. Sergio Garcia was seeking back-to-back triumphs after winning at the Wyndham Championship. He went from the top of the leaderboard at the start of the day to a tie for third alongside Dustin Johnson after a four over 75. The win took Watney up to 19th In the World Rankings and an improvement of 16 places.
---
Sunday, 1/Jul/2012
Tiger Woods equaled Jack Nicklaus with a total of 73 US PGA Tour wins at the Memorial Tournament presented by Nationwide Insurance where a closing 67 gave him a two stroke victory over Andres Romero and South African Rory Sabbatini. Woods closed his round with three birdies in the final four holes including a spectacular flop shot hole out from the back of the 3 par 16th hole. Having won Arnold Palmers tournament at Bay Hill, Woods adds the Jack Nicklaus hosted Memorial Tournament for his second win of 2012. The win took him to World Nº 4, his best World Ranking since the 20th of February 2011. Jack Nicklaus with a total of 73 US PGA Tour wins at the Memorial Tournament presented by Nationwide Insurance where a closing 67 gave him a two stroke victory over Andres Romero and South African Rory Sabbatini. Woods closed his round with three birdies in the final four holes including a spectacular flop shot hole out from the back of the 3 par 16th hole. Having won Arnold Palmers tournament at Bay Hill, Woods adds the Jack Nicklaus hosted Memorial Tournament for his second win of 2012. The win took him to World Nº 4, his best World Ranking since the 20th of February 2011.
---
Sunday, 1/Jul/2012
Rickie Fowler claimed his maiden PGA Tour title as he won the Wells Fargo Championship in a play-off against DA Points and Rory McIlroy, the latter returning to his position at the top of the Official World Golf Ranking. The three players finished on 14 under par for the tournament, one stroke ahead of Webb Simpson, and went into a sudden death play-off at the 18th. 23-year-old Fowler hit a 51-degree wedge to 4 feet, holed the putt for a victory and a win which took him to 24th in the World Rankings and with a jump of 15 places. Francesco Molinari won the Reale Seguros Open de Espana by 3 strokes and moves to World number 29 and moved up 17 places. Other winners were Hudson Swafford at the Stadion Classic at UGA on the Nationwide Tour.
---
Sunday, 1/Jul/2012
Hunter Mahan headed into the weeks Masters Tournament as the highest-ranked American after he claimed a single-stroke victory at the Shell Houston Open. Mahan parred the difficult 18th to deny Swedens Carl Pettersson who just missed a birdie on the same hole. Mahans success moved him to the top of the FedEx Cup standings and the 29-year-old moved up to fourth in the Official World Golf Ranking with a jump of 10 places. Thorbjorn Olesen braved a final round nerves and a Sunday charge from England's Chris Wood to claim his maiden European Tour title at the Sicilian Open. Heading into the final round three shots clear of the chasing pack, the 22 year old Dane shot a final round of 69 to finish 15 under par for the tournament. This proved to be enough for a one shot victory an the end, but earlier in the round Wood was going low and threatening to claim a maiden title of his own. However, a bogey at the penultimate hole saw him eventually sign for an eight under par 64 and a second place finish. The win saw Olesen climb to a career high on the Ranking and take the final place in the games Top 100 in the Ranking. The Australia Scott Hend described his week in Singapore as one of the most amazing in his life after he closed with a six-under-par 64 to win the weather-shortened ISPS Handa Singapore Classic. The Asian Tour event was reduced to 54 holes after inclement weather caused almost 10 hours of play to be lost over the first three days. Hend climbed 160 places to 254th. Luke Swedens Carl Pettersson won the RBC Heritage in South Carolina by a convincing five shots finishing with a two under par 69 to end the tournament at Harbour Town on 14 under par. Zach Johnson finished second after a 70 with Colt Knost a shot further back in third on eight under par after a disappointing 74. Petterson jumps comfortably back into the World Top 50 with a 33 position, an improvement to 35th. Luke Donald, who needed to finish Top 8 to prevent Rory McIlroy passing him and becoming World Number One, finished in tied 37th place. McIlroy begins a second spell at the top and a third week in total as the World Number One. Despite having to play 32 holes on the Sunday, and closing with a final round 74, Lee Westwood successfully defended the title he won a year ago at the CIMB Niaga Indonesian Masters. After opening with a 65 on the Thursday, it was seemingly business as usual for the World Number Three who carried on just where he left off 12 months earlier to ab early lead. More solid play followed with the kind that has typified Westwoods form over the past few years. Entering the final round with a healthy margin he was able to hang tough on a tiring day to take the title by two strokes from Thaworn Wiratchant. The win solidifies Westwoods third place in the World Rankings as he chases down the table topping Rory McIlroy and second placed Luke Donald. Hiroyuki Fujita won the Tsuruya Open for the second time in three years to claim his 12th win on the Japan Golf Tour thanks to a closing 67 that saw him romp four clear of the chasing pack. Starting the day three back of overnight leader Han Lee, who fired a third round 63 to top the board, Fujita remained un-phased making the birdies he needed to on the Sunday to overturn the deficit and take the title. As a result he moved up 15 places in the World Ranking to 72nd. Chris Swanepoel fired a truly spectacular round on the Sunday at the Golden Pilsner Zimbabwe Open making only four pars en route to a 64 and playoff victory over Trevor Fisher Jnr. Opening the round with four straight birdies was just the start Swanepoel needed before bouncing back from a double bogey at the ninth with birdies either side of an eagle at the 12th. However, when a second double followed at 15 it looked to have derailed the Pretoria natives charge for the title. But birdies at 16 and 18 was a show of resilience and when Fisher failed to par the last it was a playoff. Pars followed first time round, but on the second extra hole a second par was enough for Swanepoel to win, and as a result a jump of 172 places to 457th. Jason Dufner won his first PGA Tour title by beating Ernie Els at the second extra hole of a play-off for the Zurich Classic of New Orleans. The pair tied after 72 holes after the veteran South African had made up a three-shot deficit on Dufner, the overnight leader with a round of 67. The first extra hole was halved in par but second time around Dufner rolled his long eagle putt up to the side of the hole with Els just off the green in three after finding sand off the tee. After Els missed his birdie try Dufner tapped in for his first victory after three runner-up finishes. The win took Dufner up 10 places to 20th and Els moved back into the World Top 50 for the first time in 6 months by up 23 places to 40th position.
---
Tuesday, 1/May/2012
Rory McIlroy won the Honda Classic and becomes the second youngest ever World Nº 1. His two stroke victory was ahead of the youngest ever World Nº 1 Tiger Woods, who shot a final round of 62, and 43-year-old American Tom Gillis. The Northern Irish sensation looked assured during the week and handling the tricky conditions on Sunday with aplomb. He showed skill in getting up and down round the back nine with the skill and poise of a player who has already well established himself as one of the greats of the game at such a young age. It is the culmination of an outstanding run of form going back to last September that has seen him finish in the top three on eight of his previous 11 starts. The week also saw a return to form for Tiger Woods who found himself creeping back up the list after his runners up finish. Currently residing at 16th it proved a career best week for American Tom Gillis, who tied for second place with his compatriot. This resulted in a jump of 107 places to 157th.
---
Wednesday, 1/Feb/2012
Steve Stricker proved his tournament winning credentials once again at the Hyundai Tournament of Champions en route to a four stroke victory over Scotland's Martin Laird. However, it was not as easy as it may have looked when some sloppy play to begin the round had seen his lead evaporate to just a single shot. But Stricker is a seasoned competitor, and few have been in greater tournament winning form than him the previous four seasons where he has now picked up eight PGA Tour titles, and this showed as he composed himself and got the job done coming home to eventually win comfortably. It is his fourth straight top ten at the Plantations Course in Kapalua, and makes up for last years fourth place finish having shared the 54 hole lead. Its therefore the perfect start to the year for Stricker who found himself atop the FedEx Cup rankings, somewhere he will no doubt hope to stay come the end of the season. He climbed one place to fifth position on the first World Golf Ranking of the year to remain the games top ranked American.
---
Tuesday, 1/Nov/2011
USA Omega Mission Hills World Cup Mission Hills - Hainan Island - China - 24th to 27th November, 2011 The winner was the USA Team.
---
Tuesday, 1/Nov/2011
Paul Casey picked up his second win of 2011 at the Shinehan Donghae Open on the Korean Golf Tour. Since winning on the European Tour earlier this season in Bahrain, Casey has struggled for form but came out on top by shooting a couple of 69s over the weekend to finish level for the tournament and win by a shot. Casey started 2011 inside the Top 10 in the World, and this win will be a shot in the arm for the Englishman, who then found himself climbing back up to 20th place in the World Rankings. Englands Matthew Baldwin picked up his maiden Challenge Tour title at the Fred Olsen Challenge de Espana after seeing off Frenchman Julien Guerrier on the third extra hole. On the Island of La Gomera, Baldwin found himself trailing overnight leader Lloyd Kennedy by a solitary shot heading into the final round, but a three under 68 saw him climb to the top of the board alongside Guerrier who posted a 65. In the playoff both made pars on the first two holes and then the Frenchman encountered trouble with Olsen winning the title. American Rickie Fowler emphatically claimed a first career victory at the Kolon Korea Open after storming to a six shot win over US Open champion Rory McIlroy at Woo Jeong Hills Country Club. Fowler, a 22 year-old, carded a three-under-par 68 final round to top the leaderboard at 16-under-par overall. McIlroy produced a fourth round rally after playing his final 11 holes in seven-under-par to card a superb 64, but the Fowler was left to play a third round of 73 as the World number 3 was forced to settle for a second consecutive runner-up finish. The win took Fowler up 12 places to be World 24th. Sam Little continued a run of imperious form on the European Challenge Tour as he picked up his third win in the last four events after edging out Sweden's Pelle Edberg in a playoff at the Roma Golf Open. Having previously not won on the Tour since 2004, Little has picked up titles in Russia, France and now Italy to leapfrog Tommy Fleetwood to the top the Challenge Tour Rankings with just the Grand Final left to play in three weeks times. His third title this season also gives him the chance to play on the European Tour for the remainder of 2011, the second man to achieve that feat this year after Frenchmen Benjamin Hebert. Having started the year ranked at 747th in the World golfer Sam Little found himself now at 230th. Australian David Gleeson bookended rounds of 66 with a pair of 68s this week to take the Hero Indian Open by three strokes from his nearest challenger, the home favorite, Chiragh Kumar. Gleeson had previously won twice on the Asian Tour but had struggled for form earlier in the season and had missed five cuts in a row before bouncing back with a second place in Macau. This win sees David Gleeson climb 269 places to be 309th in the World Ranking. Under pressure World number one, Luke Donald, shot a Sunday 64 to come from five shots back at the Children's Miracle Network Classic to take the title and also usurp Webb Simpson from the top of the PGA Tour Money List in the last event of the season. Donald knew heading into the week at Disney that a win was called for as he fired off six birdies in a row on the back nine to win by two from Americas Justin Leonard. The win was Donalds fourth of the season and his 14 top ten in 19 starts. Coupled with his Money List the title saw him very much in contention for PGA Tour Player of the Year honours. He has also extended his lead at the summit of the World Rankings over fellow Englishman and World number two, Lee Westwood. Bo Van Pelt completed a six-shot victory in the CIMB Asia Pacific Classic in Malaysia, co-sanctioned between the Asian Tour and PGA Tour. Van Pelt led by one overnight and was quickly into his stride with a tap-in birdie at the par-five third, which was swiftly followed by another birdie at the fourth. More back-nine birdies saw Van Pelt stretch his lead over player partner Overton and he finished with a final round of 64. The win took Van Pelt to World 25th place and up 14 places.
---
Saturday, 1/Oct/2011
Vivendi Seve Trophy Saint-Nom-La-Breteche - Paris - France - 15th to 18th September, 2011 The Trophy was won by the team representing Great Britain and Ireland - 15 1/2 against 12 1/2 points.
---
Saturday, 1/Oct/2011
Englands Gary Christian won the Nationwide Tours Mylan Classic and in doing so looks to have secured a spot on the PGA Tour for 2012. Christian lies fourth on the money list and at 286th in the World Ranking. It was a pleasing day for the English on European soil when Tommy Fleetwood made good on his promise as an amateur. He picked up his first Challenge Tour victory in Kazakhstan by leading by two strokes going into Sundays final round. He could afford to only shoot 70 on Sunday to still win by a couple from Norways Knut Borsheim. The young Englishman found himself placed 214th on the World Ranking with a rise of over 100 places. Justin Rose hung tough on Sunday to claim his third PGA Tour win at the BMW Championship, and in doing so propelled himself right into contention for the season ending FedEx Cup Trophy. Rose went into Sundays final round at Cog Hill with a four shot lead having led since day one. Under pressure from Australian John Senden he saw this dwindle to a solitary shot. However, when he needed it, a chip in from just short of the penultimate green gave him the comfort of a two-shot lead and he duly parred the last to take the title. Not only does this win see Rose climb 31 places on the FedEx, but it also sees him jump 23 places and placed back inside the Worlds Top 20. On a very English leader board in Russia's capital city, Sam Little was the big winner on Sunday by taking the M2M Russian Challenge Cup title by one from compatriot Andrew Johnston. Little had been four over par after his first four holes on the Thursday. However, he played exceptionally well for the other 68 to finish at 11 under par and take his third Challenge Tour title, the first for seven years. He now finds himself assured of a place on the 2012 European Tour and moved up to 435th. One man able to take victory without the need for extra holes this week was Englands Sam Little. Having not won on the Challenge Tour since 2004, he took his second title in two weeks at the ALLIANZ Golf Open du Grand Toulouse. Having won in Russia the week before, Little quickly put himself in contention on Sunday. A a two shot swing on 13 gave him a one stroke lead he never looked back. Just two weeks before he was outside the Top 700 in the World and the Top 40 on the Challenge Tour money list, but now finds himself second and assured of a return to the European Tour in 2012, as well as climbing some 415 places to 296th.
---
Thursday, 1/Sep/2011
There was more play-off drama on the Challenge Tour with Andrea victorious over Florian Praegant at the Norwegian Challenge at Hauger Golf Klub. The 22-year-old Italian birdied the third extra hole to claim his maiden win, having only turned professional earlier this year and having had to rely upon sponsors invites. The win saw him climb to seventh on the Challenge Tour ranking and placed a claim his European Tour card for 2012. He has also jumped to 325 place oin the World Ranking. In a day full of firsts, it was yet another maiden victory for England's Daniel Denison who won the rain shortened ECCO Tour Championship presented by Thomas Bjorn and Mercedes Benz. The 26-year-old was one off the lead heading into the third and final round, and a three under par 69 was enough to take home the title. It completes a fine return to form for Daniel who some four years ago had broken both legs in a car accident. He found himself moving up 206 places up the World Ranking to 297th place.
---
Wednesday, 1/Jun/2011
Lee Westwood claimed his second victory in succession to maintain his position as World Number One. Westwood carded a flawless closing round of 67 to win the Ballantines Championship in South Korea ahead of Ryder Cup team-mate Miguel Angel Jimenez. He birdied the 18th to set the clubhouse target on 12 under par, before watching from the locker room as Jimenez failed to match that finish to force a play-off. Jimenez finished second on 11 under after a closing 71, with Koreas Sang-hyun Park a shot further back in third and American Dustin Johnson fourth on nine under.
---